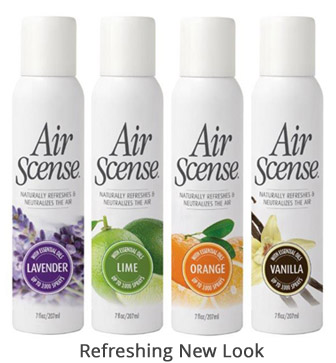 How do we make our air fresheners smell so darned great? By using the finest essential oils and plant extracts. The essential oils in Air Scense actually neutralize odors—rather than just masking them—while leaving behind a wonderfully fresh aroma. Essential oils are also known for their aromatherapy benefits, so spritzing your environment with Air Scense can actually enhance your psychological and physical well-being.
Air Scense is available in four super fresh fragrances: Orange, Lime, Lavender and Vanilla. You might be surprised by how much better smelling our plant derived scents are compared to the synthetically manufactured ones found in conventional air fresheners. And you can breathe easier knowing you haven't just filled the air with harmful phthalates. It only takes a couple of spritzes of Air Scense to freshen a whole room—and with up to 3,000 sprays per can, that smells like a great value. Our customers think so, too - read their testimonials here.
Air Scense Air Fresheners can be found in natural products stores and supermarkets, as well as online. You can use our handy Store Locator to find a retailer near you, or order Air Scense online. We hope you'll pick up a can of Air Scense to see (and smell) for yourself the refreshing difference!