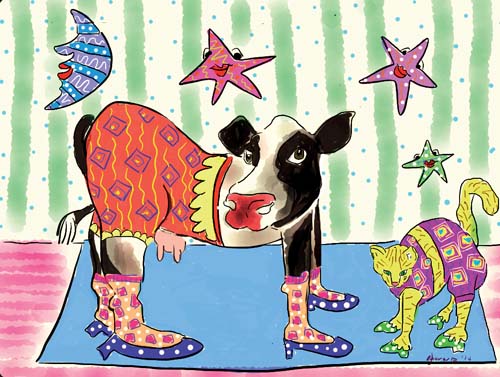 Nothing beats waking up in the morning feeling electrified and ready to face the day. Don't you want to feel naturally refreshed each and every day? We do! Sure, proper sleep is vital. But physical exercise and keeping that body flexible closes in on second. Yoga immediately popped up on our radar as we prepare to reap its noted and numerous benefits. Fortunately for us, we have a talented dear friend, Dr. Ellen Horovitz, a certified yoga therapist at our disposal. So we literally reached out to her to lean on her expertise. We were glad we did!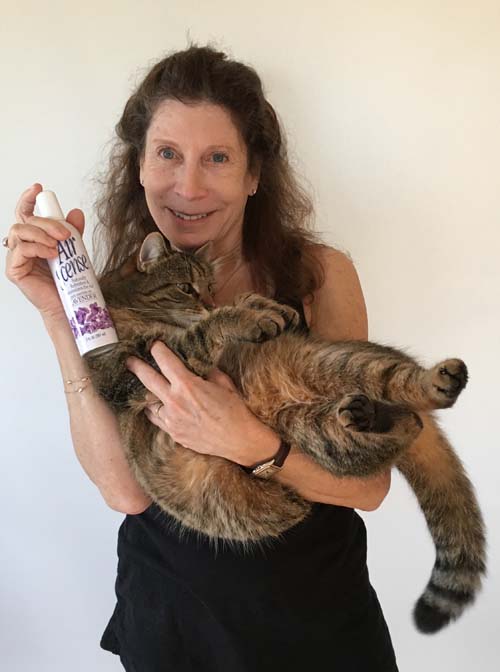 After explaining our objective (which is to keep you refreshed, naturally of course) Ellen quickly pointed us to a published article on Stress, Inflammation and Yoga practice (NIMH study.) She told us this is the regimen that she uses with many of her clients "who struggle with sleep and then some ..." (Just what the good doctor ordered.) Ellen was also gracious enough to pose for the camera so we could show you the poses, as well as tell you.
Simple enough for beginners yet challenging too for you yoga veterans! Refreshing de-stresser for any age. (Ellen has clients she works with that are in their late 80's and 90's!)
Note: These poses need to be practiced in this order to replicate the success based on the above noted scientific findings from the study:
Try and hold each position for at least 30 seconds, longer if you find them more relaxing.
---
1. Supta Baddha Konasana "Reclining Bound Angle Pose"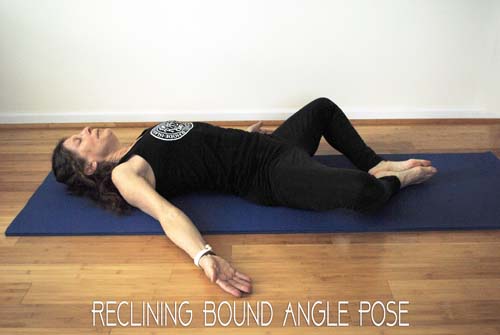 Soles of feet are kept together for maximum benefit. This pose should loosen the inner thigh, feet and ankles.
---
2. Adho Mukha Svanasana "Downward Facing Dog"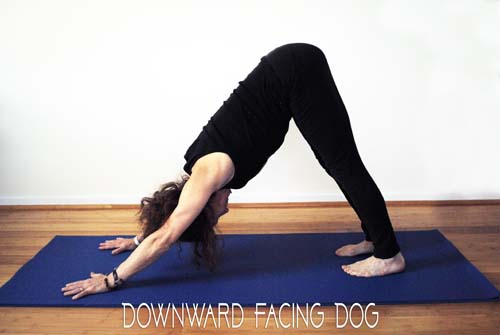 If you are able, try to drop your head lower between your arms then even this model is showing. You should feel a good stretch in your legs and butt. The extending motion of the arms should leave them feeling stretched out too.
---
3. Supported Uttanasana "Intense Forward Stretch"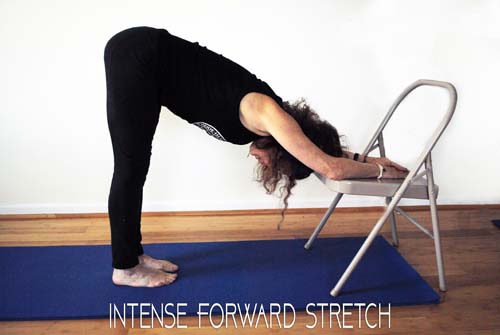 Use a chair or pillow such as shown below to perform this stretch. Get as low as possible but be careful not to strain your neck or head. This move should loosen up your back and neck. You'll also feel a good stretch in your legs and buttocks.
---
4. Parsvotanasana "Intense Side Stretch Pose"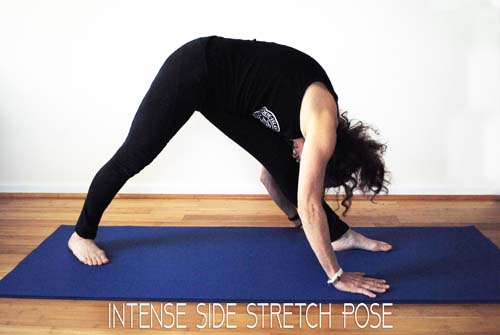 You may not be able to fold over your legs quite like the model is demonstrating below. The best alternative, if you can, is rest your hands on your knees rather than your ankle keeping a slight arch in your back. This will relieve any potential stress on the spine. You should be feeling the stretch in the back of your thighs and legs. Your back will be loosened up too.
---
5. Prasarita Padottanansana "Wide-Legged Forward Bend"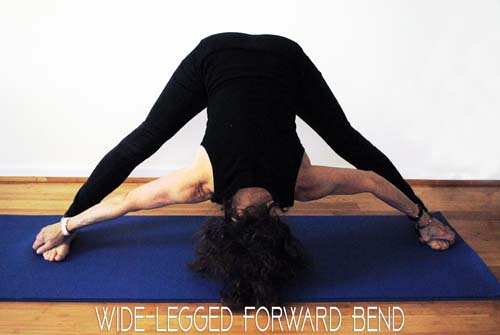 If you can touch your head to the floor like below, that's great. If not, let your head bend as low as possible to the ground without straining your back or legs. A terrific inversion. You should feel the stretch in your legs, buttocks, and spine. Your arms will be loosed up as well from this pose.
---
6. Janu Sirsasana "Head to Knee Pose"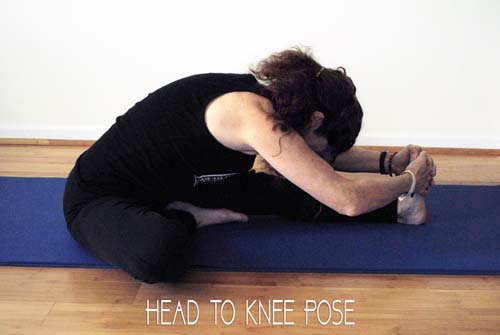 Again, one may not need to round over the back but have a seat of a backbend. Just go as low as possible being careful not to pull any back or neck muscles. You should feel the stretch in your leg, feet and back. Your arms should feel a good stretch in turn too from this move.
---
7. Bharadvajasana "Simple Seated Twist Pose"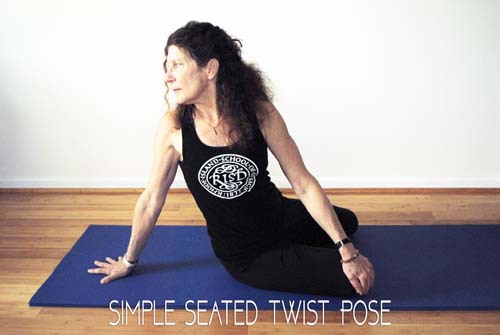 Do this pose on both sides of your body to make sure each side gets a turn. Unlike the model, try and look over your shoulder (in this case your head should be turned over your right shoulder and gaze goes in that direction.) Feel this stretch in your neck, shoulders and side abs and thighs.
---
8. Viparita Karani "Restful Inversion"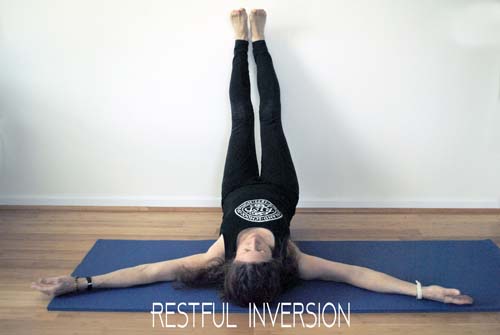 Avoid this move if you are menstruating. Legs are forced up in a wall position. Stretch out your buttocks and thighs muscles.
---
9. Supported Setu Bandha Sarvanagasana "Bridge Pose"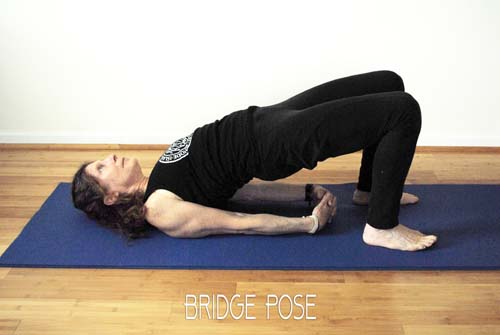 You can place a block under the sacrum area or pillow if this pose below is too hard to do initially. As you gradually increase your strength, try to remove the pillow and do solo. You will feel this move in your back, butt and the back of your thighs. Will also increase neck and shoulder strength.
---
10. Savasana "Corpse Pose"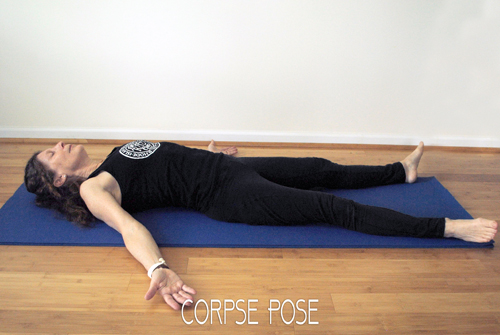 Our favorite! Relax with legs wide apart and arms out from shoulder and try and sleep. De-stresses the entire body and should be felt everywhere from head to toe.
---
Sigh. Can we say just how much we adore Ellen? She is just as awesome as she is talented. We admire and respect her dedication as an artist, art therapist, teacher and certified yoga therapist– and she loves our Citra Solv & Home Solve natural cleaners & Air Scense natural air fresheners almost as much as we do!
Dr. Ellen G. Horovitz, ATR-BC, LCAT, E-RYT, C-IAYT Art Therapist/ Psychotherapist/ Certified Yoga Therapist http://www.ellenghorovitz.com
One additional recommendation from Ellen – a few spritzes of Lavender Air Scense will get you relaxed and in the mood for yoga even faster. And be encouraged, the more you practice these moves, the more your body will adapt and increase in flexibility. Take your time with them and let your body slowly adjust. You can do it!
And now that we have your body and soul naturally refreshed – how about a prescription for a dose of laughter. Leave it to Ellen to combine her artistic talent with her love for yoga and come up with these clever note cards that teach the pose and the benefits (on back of card.)
http://www.amazon.com/dp/B0182Z0DF6
Be sure to check them out on amazon!