After a tumultuous political season, Thanksgiving can't come quick enough! Just in time to remind us all what should be cherished - our friends and family whom we hold so dear. People with varying backgrounds, beliefs and core values. And don't we all have so much to be thankful for? Our hearts are overflowing with gratefulness this year! We are so blessed. The holidays can be a jubilant time, setting aside small differences and embracing each other just as we are. How we look forward to relaxing with our loved ones over a warm fire sipping some mulled wine or cider.

But despite all these blessings, you know how the holidays can make you feel. Exhausted! You wake up early on Thanksgiving morning with a chore list a mile long. Forget about watching the Macy's Thanksgiving Day Parade or fixing your hair. You have work to do. The prepping process can put even the most laid-back individual on edge. The cooking, the shopping, the baking, the planning, the cleaning…where does it end? So, when your energy is zapped and you've hit that low, don't you think it would be nice to have your own personal fairy godmother to lend a hand on the big day? (Although you can lean on us for the cleaning bit as we volunteer to be your fairy godmother for that bit.)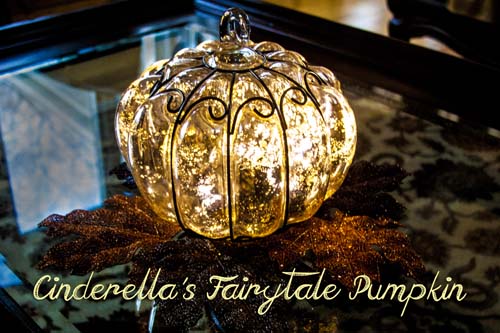 After all, look what the fairy godmother did for Cinderella. Fancy coach, glass slippers, smashing dress and hair done to perfection. This got us scratching our heads and thinking, what else could that fairy godmother whip up with that pumpkin? How about something naturally refreshing that restores our energy and refuels us as we plow through that to-do list! How about a little pampering during the holidays when you least expect it? Sounds like the fairytale ending we've all been hoping for. Time to channel our inner fairy godmothers to help you out.
And you know us. We love a challenge – and the opportunity to test out new recipes. Plus, we also have several pumpkin addicts amongst us; good thing as pumpkin not only tastes yummy but it also happens to have a lot of health benefits, too.
The Powerful Punch of Pumpkin....(click HERE to read some of the heath benefits of pumkin and pumpkin seeds)
After doing a little "market" research and a lot of taste-testing (looks like the turkey is not the only thing stuffed this year – ha, ha) – here are 5 recipes to help you stay naturally refreshed this Thanksgiving!
Pumpkin Recipes
---
Pumpkin Breakfast Cookie
These pumpkin flavored healthy cookies make a great breakfast on the run. With hearty wholegrain oats, cranberries and pumpkin they help you get off on the right foot!

Ingredients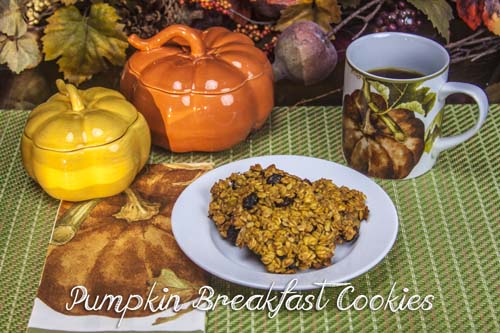 2/3 cup Cranberries, unsweetened dried
1/2 cup Pumpkin puree
2 Eggs
1/4 cup Honey
1 cup Oats, quick cooking
1 cup Rolled old-fashioned oats
1 tsp Pumpkin pie spice
1/2 tsp Sea salt
1/4 cup Spectrum coconut oil
1/4 cup Flaxseed, ground
2/3 cup Pumpkin seeds
Instructions
1. Preheat oven to 350 F. Line a baking sheet.
2. In a small bowl, warm coconut oil and honey until blended
3. In a large bowl combine both kinds of oats, cranberries, pumpkin seeds, ground flax, pumpkin pie spice and salt. Add pumpkin puree, eggs and coconut oil & honey mixture. Stir until fully combined.
4. Drop about ¼ cup sized scoops of the mixture onto a cookie sheet and flatten (you can place close together because cookies won't spread while baking).
5. Bake for about 15-20 minutes until edges are lightly browned.
6. Let cookies cool completely on baking sheet. Store in an airtight container.
Notes: You can replace honey with maple syrup or agave.
Pumpkin Pie Energy Balls
These energy packing pumpkin treats are perfect for when you need an extra boost to keep you going.
Ingredients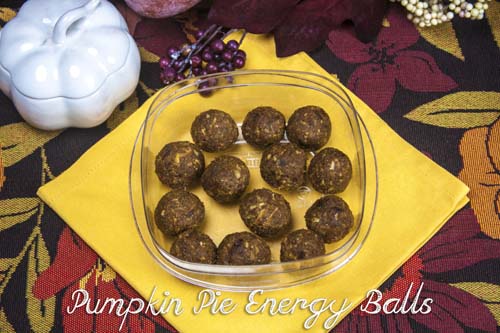 1 cup Medjool dates, pitted
1/3 cup Pumpkin puree
1 ½ tsp Cinnamon
1/8 tsp Cloves, ground
1/8 tsp Nutmeg
1 Pinch Salt
2 tsp Vanilla
1/4 cup Coconut flakes, unsweetened
1/2 cup Pecans
Instructions
1. Place the dates into a small bowl and cover with water. Let soak for 10 minutes, then drain.
2. Place the pecans into a food processor and pulse until finely ground. Add in the dates and the rest of the ingredients, Pulse until combined. Adjust the spices to taste. Place into the refrigerator for 30 minutes to chill.
3. Roll dough into small balls. Store in the refrigerator in an airtight container.
Spiced Pumpkin Seeds
An easy to make yummy snack that is good for you, too!
Ingredients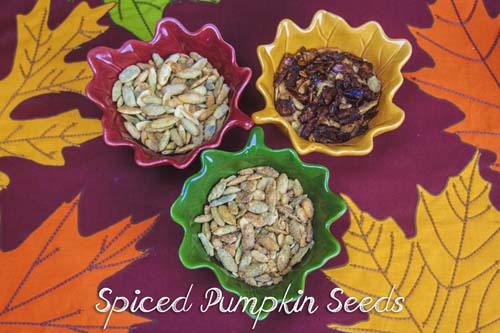 ½ cup raw pumpkin seeds
1 teaspoon olive oil
spices
Instructions
1. Preheat your oven to 300° and line a baking sheet with parchment paper.
2. Toss with about a teaspoon of olive oil (you could also use coconut oil, grapeseed oil, avocado oil etc.), and then toss immediately afterward with the spice mixture
3. Be sure to toss well so that each seed is coated.
4. Then spread the seeds out on the prepared baking sheet
5. Bake for 20-30 minutes, stirring two to three times during cooking. are ready when they are beginning to brown. Let cool.
Spice Combinations:
Cinnamon Sugar - 1/2 teaspoon cinnamon, 1 tablespoon brown sugar, pinch of salt

Salt & Pepper - 1/2 teaspoon sea salt, 1/8-1/3 teaspoon black pepper

Pizza – 1 tablespoon grated Parmesan cheese, ½ basil, ½ tsp oregano, ¼ teaspoon sea salt, 1/8 teaspoon garlic powder
Ranch - 1/2 teaspoon sea salt, 1/4 teaspoon onion powder, 1/4 teaspoon parsley, 1/4 teaspoon garlic powder, 1/4 teaspoon dill, 1/8 teaspoon dry mustard, 1/8 teaspoon celery seed, 1/8 teaspoon paprika, 1/8 teaspoon black pepper
Pumpkin Spice Sugar Scrub
Pamper your body with this yummy pumpkin smelling treat! Easy DIY makes great gifts, too.
Ingredients: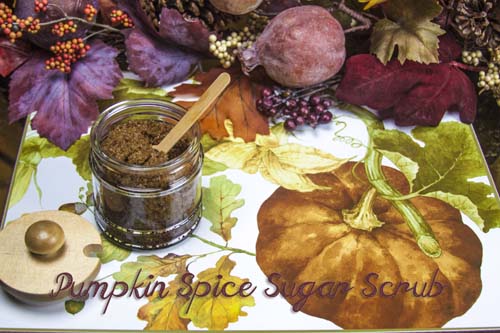 2 cups brown sugar
1/2 cup white sugar (or raw sugar)
1 teaspoon cinnamon
1 teaspoon pumpkin pie spice
1/4 teaspoon nutmeg
1/3 cup coconut oil or almond oil
1 teaspoon vanilla
Instructions
1. In a medium mixing bowl combine the sugars and spices.
2. Mix together with a wooden spoon.
3. Slowly pour in the oil and stir until well blended.
4. Add more oil if your scrub is too dry (should be damp but not runny)
5. Cover in an airtight container.
6. Store in the refrigerator up to 8 weeks.
Pumpkin Pie Martini
Whether you mix one of these up as a reward (or to give you strength for the day) – this pumpkin treat might be as yummy as a piece of pumpkin pie. You decide!
Recipe: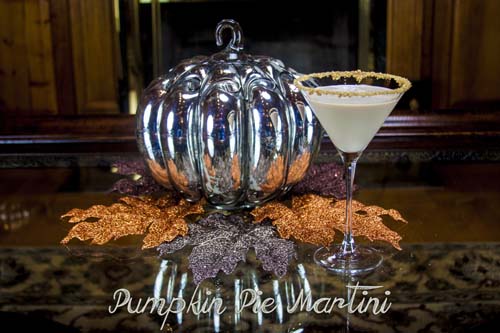 2 parts Fulton's Harvest Pumpkin Pie Liqueur
1 part whipped cream vodka
Shake with ice, and pour.
We suggest lining the rim of the glass with graham cracker crumbs. (Try a little honey to help the crumbs stick!)
So, you can go ahead and indulge in a healthy way this year with pumpkin inspired food and drink ideas savoring the flavors of the season.
Because this year - we are so thankful for you readers, thanks for being part of our lives as you allow us into your homes by reading our blog. Have a safe and fabulous Thanksgiving with all the people you value and treasure. And remember: your Thanksgiving turkey never tastes as good when you talk politics at the table. Hehe. So, leave that discussion until after the New Year!
And in the spirit of Thanksgiving perhaps you can play fairy godmother and share one of these goodies with someone who could use a little pick-me-up! We'd be so grateful. See you soon!
---
Related Articles